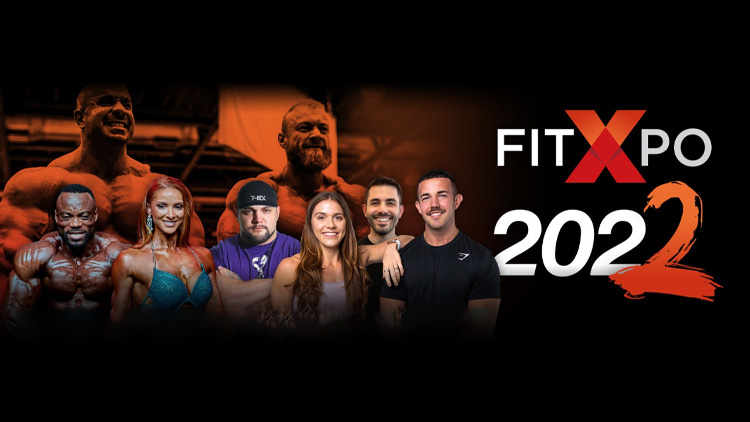 FIT XPO 2022
AFTER A FANTASTIC FIRST YEAR , FIT XPO IS BACK - BIGGER & BETTER!

WELCOME TO A GROUNDBREAKING INTERACTIVE CELEBRATION OF STRENGTH, WELLBEING, HEALTH & FITNESS!

•    120+ of the best brands from supplement companies, PT services, athleisure wear, gym equipment, and all things nutrition. 
•    10 competitions including Bodybuilding, Strongman, Strongwoman, CrossFit, Powerlifting & MMA. 
•    Nutrition demos and interactive workshops.
•    25+ Special guest athletes & speakers.
•    Drop in fitness classes for all.
•    Education Stage with leading PT's and coaches.
•    Fantastic Deals & discounts over the weekend - Exclusive to FIT XPO.
FITNESS COMES TO LIVERPOOL

FIT XPO is an unmissable show and an event like no other. presenting the latest trends in fitness, nutrition, training and wellness - the event brings together the brightest and the best traders, fitness enthusiasts and thought leaders in the fitness and wellness universe - all under one roof!

SOMETHING FOR EVERYBODY
Whether your interested in losing a few pounds, you love competitive bodybuilding or Yoga is your thing - we've got you covered! FIT XPO is the newest interactive exhibition designed to entertain & enlighten - for all the family.
If your interest is bodybuilding, weight-training, spin, calisthenics or CrossFit -we have something for you. With a massive variety of activities to see, do, sample, and learn - there's something here to suit every workout, family and lifestyle.

● Learn from the best by attending our talks & workshops with leading personal trainers & nutritionists.
● MMA masterclasses, Taster classes in various disciplines & Bodybuilding posing workshops.
● Meet-and-greets with the biggest names in bodybuilding & Strongman.
● Strength and conditioning training & workshops.
This is an event for everyone. Connect with thousands of enthusiasts from all over the world and discover the latest trends and innovations in the industry's products, services, and training techniques.
● Inspiring drop-in fitness classes, open to all.
● Ground-breaking seminars from thought-leaders.
● Live Q&A's from our centre-stage.
● Network with the best in the industry.
TESTIMONIALS:
FIT XPO was one of our biggest events to date, period. Why do we say that? Just take a look at the brands, events and the calibre of athletes that will be attending. Bodybuilding has been crying out for such an event since its decline at other expos/ events. We guarantee this will not disappoint, and we'll be bringing the whole SN team to represent too!
Leigh Kember, Owner of Supplement Needs.

"There really is nothing in the UK like FIT XPO - The show will bring together some of the biggest names and brands under one roof. Whether you are thinking about stepping on stage or learning about how to improve your fitness goals, you do not want to miss this! I'm excited to see you front and centre with my camera, ready to capture you at your very best!"
Matt Thomas, Event Photographer.

 
WEEKEND TICKET £45 (plus fee)  -FIT XPO Entry from 09:30am on Saturday & Sunday - This ticket gains entry to expo and all competitions for the 2 days.
 
VIP DAY TICKET £55 (plus fee) (Very limited numbers) - FIT XPO 9AM entry on Saturday or Sunday . Goody Bag - a really good one ;) VIP Lounge with free refreshments. 
 
VIP WEEKEND £95 (plus fee) (Very limited numbers) - FIT XPO 9AM entry on Saturday & Sunday plus exclusive VIP Friday night seminar, Goody Bag - a really good one ;) VIP Lounge with free refreshments.
Various prices
(incl. administration fee) plus no fulfilment fee per order.
1-3 July 2022
Exhibition Centre Liverpool